The Tradelands
Vedalken
Vedalken are fairly common on the Middle Islands and the coastal areas of the Northern Continent. Their stations can range from humble to exalted leaders, but almost always do they seek places where control, order, and scholarly interests hold sway. Thus they are, not surprisingly, one of the largest founding races of the University of Sacritt as well as being found as scribes and bureaucrats throughout the Tradelands.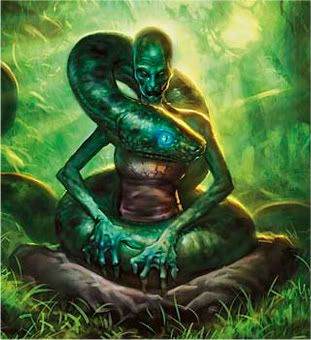 Cold and rational, Vedalken are known for being highly intelligent. While not entirely emotionless, Veldakanen endeavor to be dispassionate and rational above all else. Artistic endeavors are alien to their mindset, seeing only functionality and efficiency as aesthetically pleasing. While not intentionally offputting, many people that have not grown up among Vedalken in their community find their personalities unsettling, rightly feeling that the Vedalken is examining. Kaminoans and Salarians, having similar mentalities, find it perfectly normal.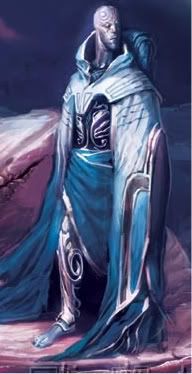 Vedalken are exceptionally bright, with genius level intellects being fairly common for their race.
Vedalken can see into a somewhat greater spectrum of light than average
Vedalken have a talent for academic work, artifice, and magic though actual wizards are just are rare in their race as any other.
Vedalken average between 5 to 7 feet tall but rarely weigh more than 120 lbs.